performance enhancing teas
Specifically created for athletes, entrepreneurs and high-performers that need a jitter and crash-free boost in their daily lives. Made in Vancouver, BC.
Start Your Journey Now
A range of products that will suit your needs with added superfoods and adoptogens for everyday wellness.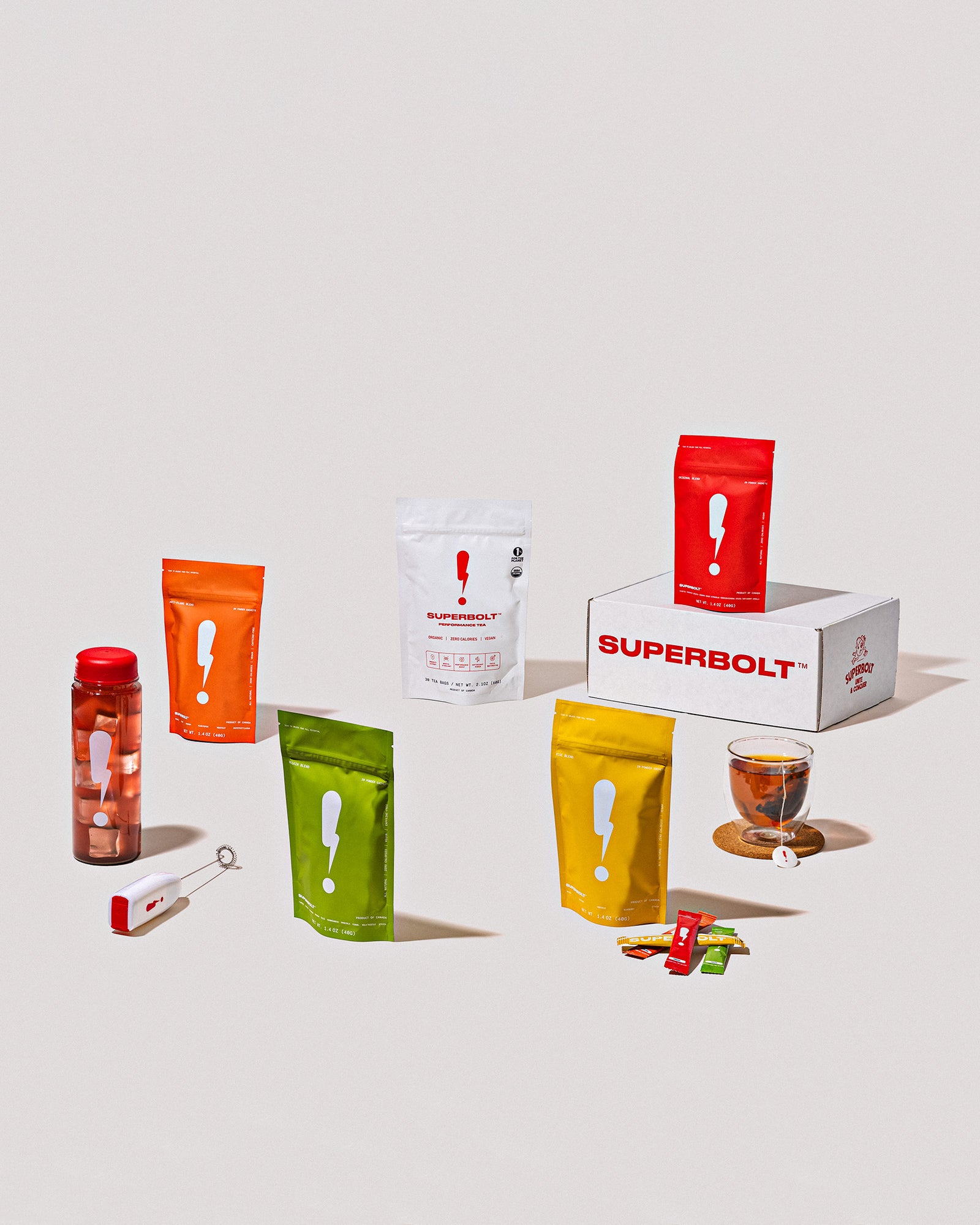 Daily Use Benefits
Tastes Delicious
All of our blends have been carefully developed in our Vancouver facility to ensure effectiveness and great taste.
Zero Calories
No sugars, artificial sweeteners, chemicals or colours, means no jitters, crash or headaches. Plus it tastes delicious!
Boosts Immunity & Sleep
Hundreds of studies show the ingredients in Superbolt's products help boost immunity and lower caffeine intake makes for a restful sleep.
Long Lasting Energy
A powerful holistic blend of teas and adaptogenic superfoods increases physical stamina and endurance.
Focus & Cognitive Boost
Induces a state of deep focus that supports productivity with added superfoods to help your body recover.
A BLEND FOR ANY OCCASION
Need something for energy or recovery? Caffeinated or Non-Caffeinated we've got a range of products to make sure you're covered!
TRUSTED BY WORLD-CLASS ATHLETES

I'm a pretty loyal coffee drinker, and only drink decaffeinated teas at night to relax. But Superbolt might actually change that — I've found myself replacing coffee to fuel my workouts. It makes me feel less jittery and feels more like a steady wave of energy I can ride throughout the workout and the rest of my day.

Haris Fazlani, Co-founder at WØRKS
Gets me ready to crush it!
Superbolt's energy tea has allowed me to have an increase in endurance with my training. I drink it every morning before I train!

Farinaz Lari, World Kickboxing Champion
New staple in my morning routine.
I drink Superbolt Tea every morning. It gives me long lasting energy which is crucial for not only for my training but running my business on a day to day. This is a way better alternative for athlete's looking to get energy without the anxiety and jitters plus it helps you recover for the next day.

Ben Dyson - Owner of Kuzushi Grappling, Brazilian Jiu Jitsu Black Belt
Delicious and feel awesome!
First impression of this tea was its flavour and natural sweetness. No need to ad anything to it, it's straight up delicious as is. I found my energy consistent all morning during physical activity. No caffeine jitters, and overall my muscles felt less fatigue. Awesome and natural ingredients make this product work.

Chris Rasman, Professional Snowboarder

On top of being an all natural energy booster, this has to be one of my favourite tasting teas around!!

Noah Cohen - Professional Surfer
Energy for everything I want to do.
I love this product, I have it throughout the day to keep me focused organizing my personal training business and to keep me energized my daily work outs.

Adrian Gaskin, Certified strength & conditioning coach
Honest reviews from Thingtesting.
BUILT TO BOOST ENERGY IN EVEN THE MOST EXTREME CONDITIONS